June's Cool New Tool
Projector is easy—and slick—for digital design
This is the Wonder Tools newsletter, focused on useful tools and creative resources for work. I'm Jeremy Caplan, a journalist & director of teaching & learning at the Newmark J-School.
I love tools that make it easy to design graphics, slides and other digital stuff. The newest slick design tool is Projector, which opened to the public last week. Like Canva, Projector makes it simple for anyone to create designs to use online or off.
You can make posters, event invites, social media posts, slides, infographics and other visual elements for presentations or sharing online.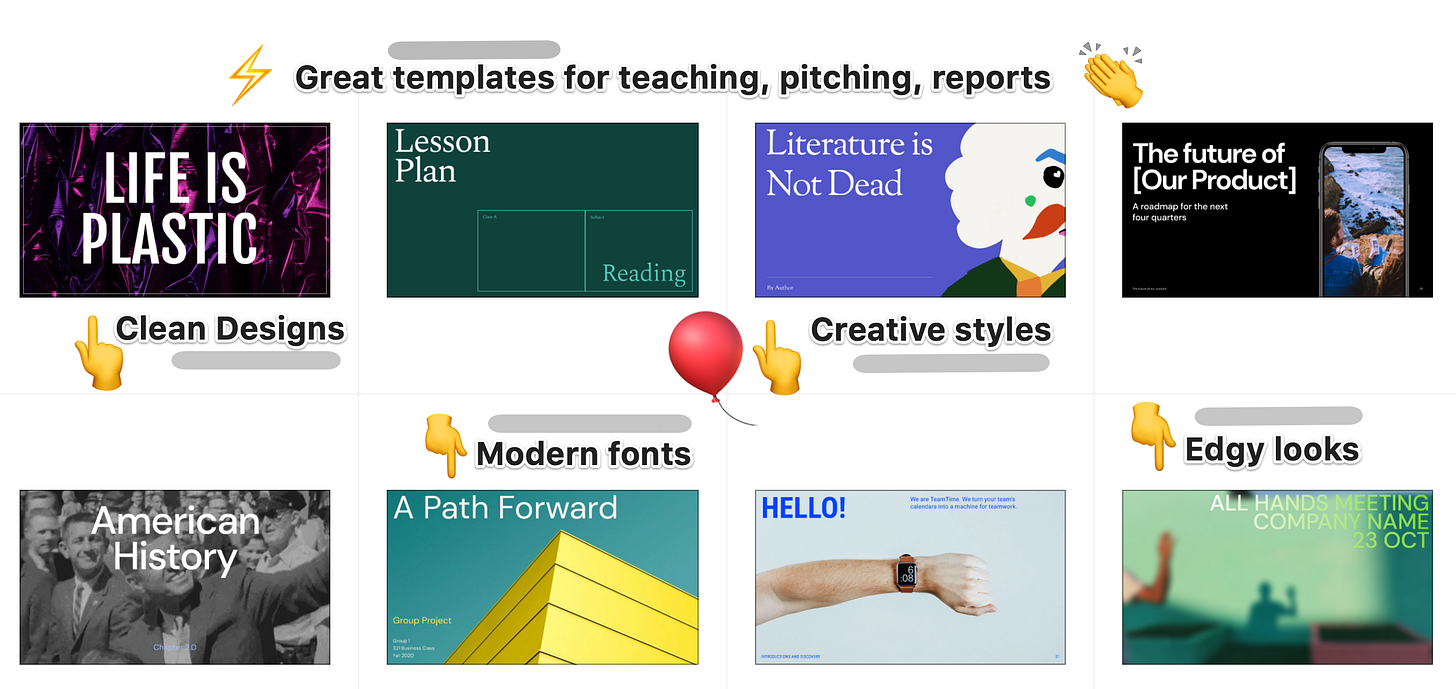 Making design
something anyone can do
Digital design used to require professional tools like Photoshop, Illustrator or InDesign. Those are complex. You can take semester-long courses to get up to speed. Before you can create comfortably, you've got to patiently master the menus & options. Pro tools also tend to default to a blank slate, assuming you've already got a design vision. Newer services like Figma and Sketch have made pro design more collaborative, but they're still intended for pros—not casual use.
Projector follows Canva in offering both an easy entry point for design beginners and a wonderful array of starter templates. When I opened Projector for the first time this week, I was guided into designing a project within minutes. The interface was intuitive. Here's a gif I recorded to illustrate what it's like to build a slide deck with Projector.
I chose the slides category, picked a template, and adjusted the first slide's text. I added some images, restyled text, moved things around. Easy and quick. Within a half hour I had tried a few designs and created a new teaching slide deck. I liked being able to export it as a video and as a gif, customizing the length of slides & transitions.  
Here are some of the other things I like about Projector 
Built-in Image Libraries To add visuals, you can upload your own images or select from a free image library within Projector. The library includes photos from Unsplash— quality pictures anyone can use. Helpfully, there are also videos, gifs, icons and stickers within the editor. That saves time you would otherwise spend flitting between tabs to find visuals.

Fresh Designs Some programs I like, such as Google Slides, come with templates that feel blocky and drab. Projector templates are contemporary, edgy, and eye-catching. They look like they've been developed thoughtfully by professional designers, which they have.

Responsiveness Projector lets you drag and drop, pull to expand, and reshape designs in a way that feels like you're using a desktop application. The editing palettes are intuitive. Even the color picker has a nice touch to it. Slick details.

Easy Export Share a link or export as a PDF, gif, images, or even a video.
What to use it for
Make attractive slides for an upcoming Zoom meeting

Create a cool Twitter visual about an issue you care about

Design an intro graphic or poster for an event you're hosting 

Spice up an email or journal entry

Add a visual to spruce up a work document 
Try it out live
If you'd like to try Projector out with me, I'm hosting a live sandbox session next Wednesday, July 1, 10am ET. It's free on Crowdcast. I'll pick someone to try designing something for/with. Join me to experiment with a Web gathering that's not Zoom 😀.
Caveats
Projector doesn't yet have the range of templates a bigger site like Canva has. And the social graphics and poster templates at launch aren't as strong as those for slides. But I expect the library will grow quickly. And the slide templates are terrific. They outshine those included with Google Slides, PowerPoint and Prezi. And even if you start with a blank slate, the editing palette and visual library make Projector fun & easy to use.
What's your trick for making slides? I'm working on a post about presentation resources & tactics for making superb slides—reply if you have a tip to share.
p.s. A few other things this week…
Collected Notes is a cool new free note-taking and blogging platform that lets you create cool posts like this powerful one from Kim Bui. 
JazzKeys —Send a quick hello to a friend or family member with this free service that turns your typing into little jazzy riffs. 
Workflowy is an app recommended by Philipp Temmel, a Wonder Tools reader who writes a useful weekly digest of productivity and creativity boosting tools and resources called Creativerly. He told me that "no productivity tool has had as much impact over the past couple of years on the way I take notes, organize my thoughts, and structure my tasks as Workflowy. It is super lightweight, cross-platform, minimal and distraction-free in design, and just everything you need to be productive."