The Next Google Docs
If you create lots of documents, you'll love Coda.io
You're reading the Wonder Tools newsletter. I'm Jeremy Caplan, a journalist & director of teaching & learning at the Newmark J-School. I share tips and tools to help make remote work more enjoyable, efficient and creative.
Coda is like Google Docs on steroids. It's what GDocs may look like in several years. You can use it to make documents that are engaging and interactive. Coda docs end up looking like well-designed Web pages that look especially good on mobile devices.
I've used Google Docs nearly every day for years. I still love GDocs. But when I want to create a complex doc with embedded media, multiple interactive sections, and/or something that will look good on a mobile device, I increasingly opt for Coda.
Unlike GDocs, Coda allows me to embed multimedia and to collapse content, making things easier to read and more engaging. When I insert a YouTube video, it plays right inside the doc. When I have multiple layers of text, I can collapse them into neat sections. And there's more.
Here are seven things you'll like about Coda, and one caveat.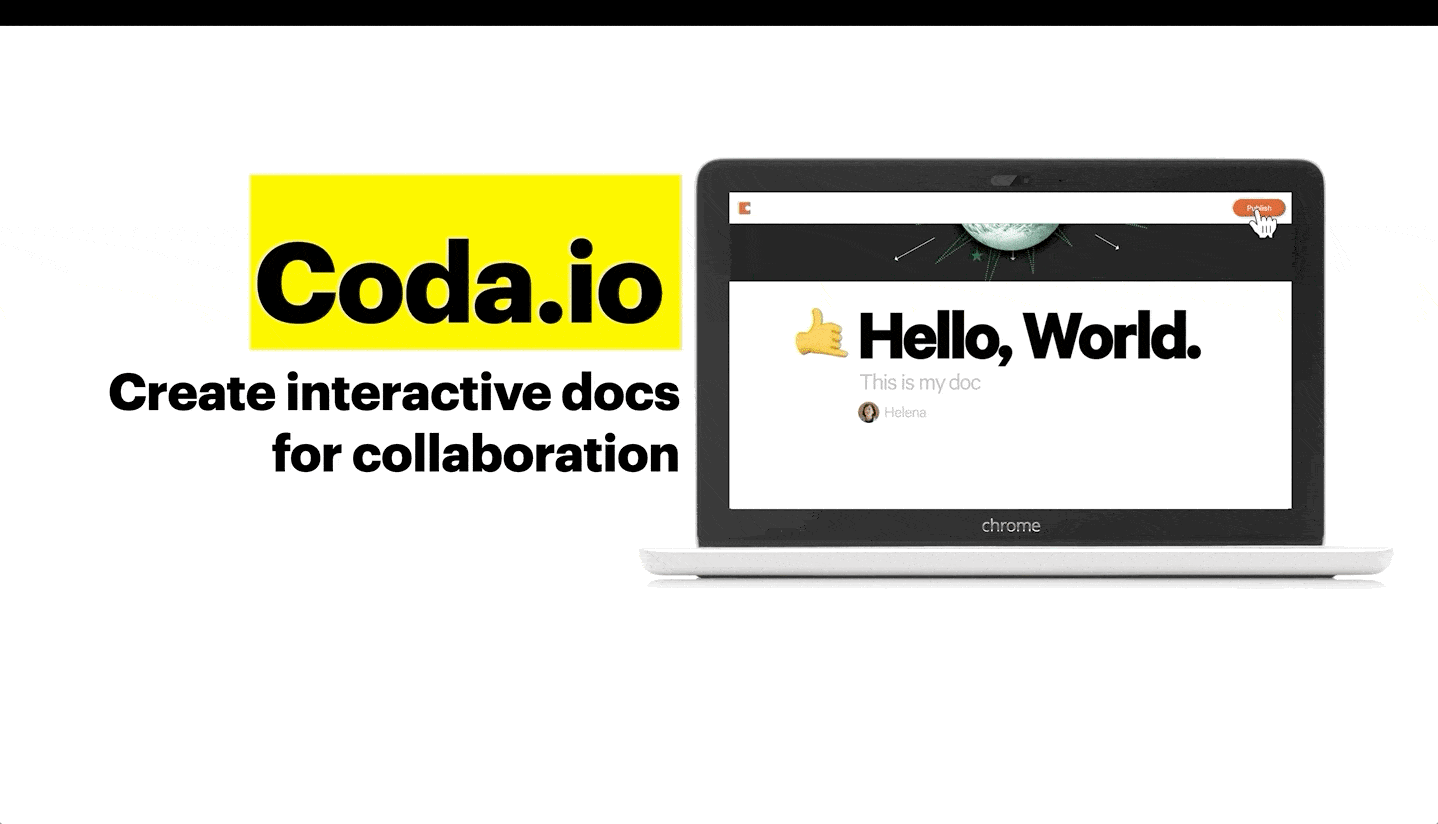 It's easy to use.
It's simple to start writing in Coda. No codes or commands to learn. There are lots of advanced features if you want them, but Coda also works well for vanilla documents. To show Coda in action, we gathered live on Friday, June 12 for a live demo session. We made a Coda doc and explored some Coda features.
You can embed multimedia … even Spotify playlists
You can show all sorts of material in a Coda doc: videos, audio files, pictures, maps, social media posts. Even content from other apps like Google Drive, Slack, & Spotify.
This is a huge benefit. With a Google Doc or Word you can insert static images, but that's about it.
GDocs and Word do let you insert links to multimedia, but to see the material, the reader has to open up a separate browser tab. That's like inviting someone to look at your photo collection and then handing them a separate box to look at each image. With Coda, anyone can just click on a video to start watching it within your doc.
You can keep things tidy. 
With Coda you can tuck anything into a toggle, so your page looks nice and clean. 
A little triangle indicates that there's material inside a section. To see the material inside, just click the triangle and it toggles open. Here's a gif illustrating the toggle:
Why is collapsing a section like that so useful? 
It enables you to neatly organize more words and images on a page. You can have multiple sections of material, all neatly packaged up. Because each collapsed section has header text at the top of it, your reader has a clear summary of the material within.
You can insert building blocks into your documents
Coda has interactive elements you can drag into your doc. Add a quick pulse check poll, for example, or a meeting notes template. One that's handy is an "I've read it" button so people can signal when they're done reading. The blocks remind me of the pre-pandemic convenience of picking up Trader Joe's snacks rather than making your own from scratch. This gif illustrates the ease of dragging in a building block:
You can let others press buttons in your document
Unlike most other document or note-creation tools, Coda lets you insert clickable buttons in your docs that do cool things, such as: 
Start a timer to help you stay on schedule during a meeting or class. 

Add ideas to a shared table, or post questions and vote up or respond to questions from others. The table can auto-sort ideas and questions by votes.

If you link your Gmail to Coda you can even set up a button to let you email notes you're taking directly from the page to a list of email addresses.
These interactive buttons enhance live collaboration. That's useful for the remote work so many of us are doing these days. Live in-doc interaction helps you build consensus about the key questions to address, ideas to try, or next steps on a project.
---
Check out other recent posts on Airtable, Tilda, Calendly, Otter & more.
---
You can draw inspiration from Coda's gallery
Coda recently launched a gallery of model documents. If you see one you like, you can duplicate and customize it. Try a project and task manager you can use as a productivity dashboard. Or a template for week-to-week meeting notes, with a separate tab for each gathering. Here are some other examples: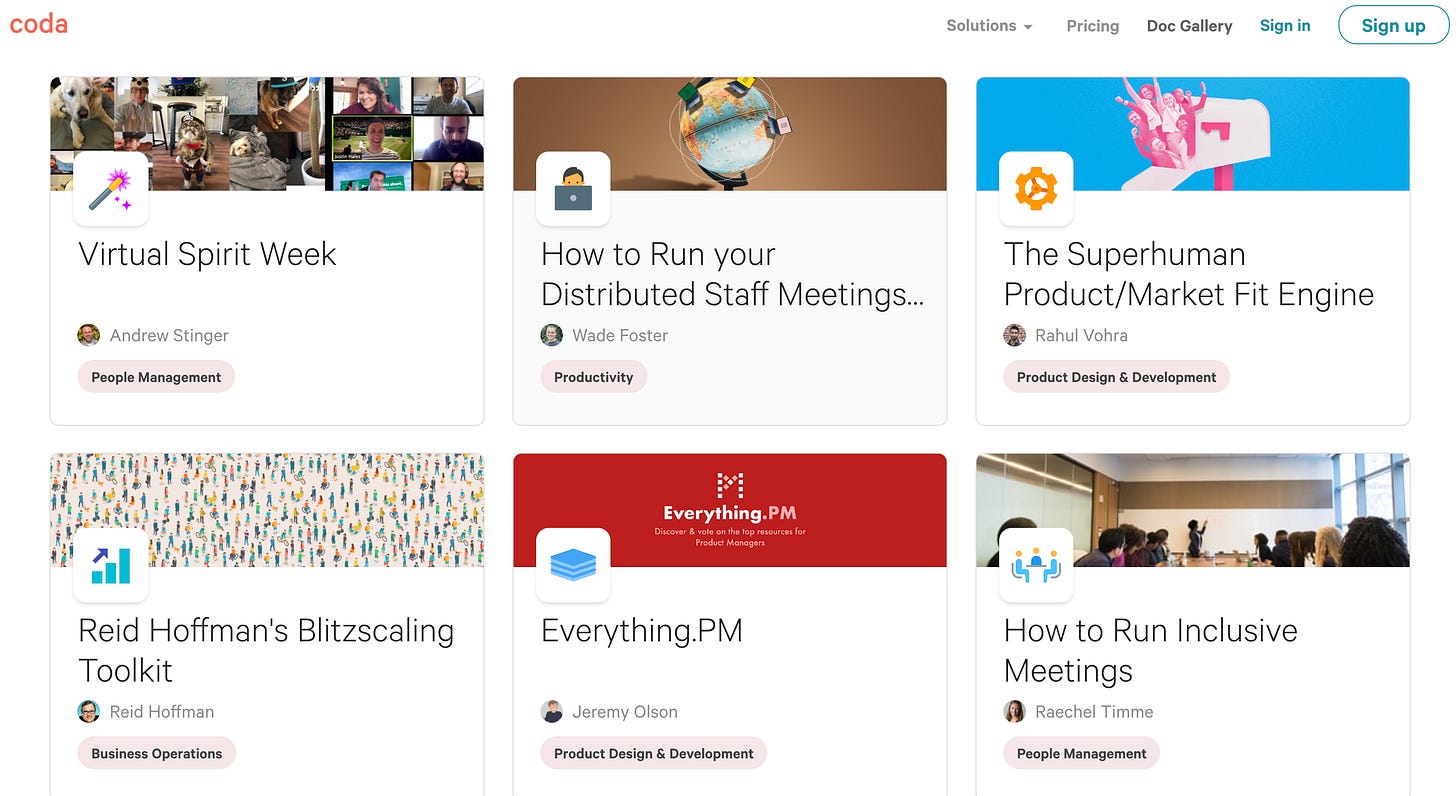 You can use Coda to organize data too, or create tables
One the most important distinguishing features of Coda as compared with simpler document-creation tools like Word or GDocs is that Coda docs can also be database tools. I was intimidated by databases until I realized they were basically just tables I could mess around with, filter, and view in various ways.
It's not the best for everything
I actually prefer creating database tables and collections in Notion, one of my other favorite new tools, which I'll write about in a separate post. That's because as great a tool as Coda is, Notion makes the table-creation, editing and presenting process even easier and more elegant. Coda is newer than Notion, and the Coda team has been releasing improvements at a furious pace, so they may yet catch up to Notion's tables.
As another alternative to Coda tables, I also like creating some tables in Airtable, which I wrote about here. Airtable has some excellent features, including a great Web clipper, which makes it easier to inject a bunch of information from a Web page directly into a table. That makes a big difference if you're curating a lot of items. Having to enter each bit of info manually can turn the process of creating a detailed 50-item table into a two-hour job, rather than one done in 45 minutes.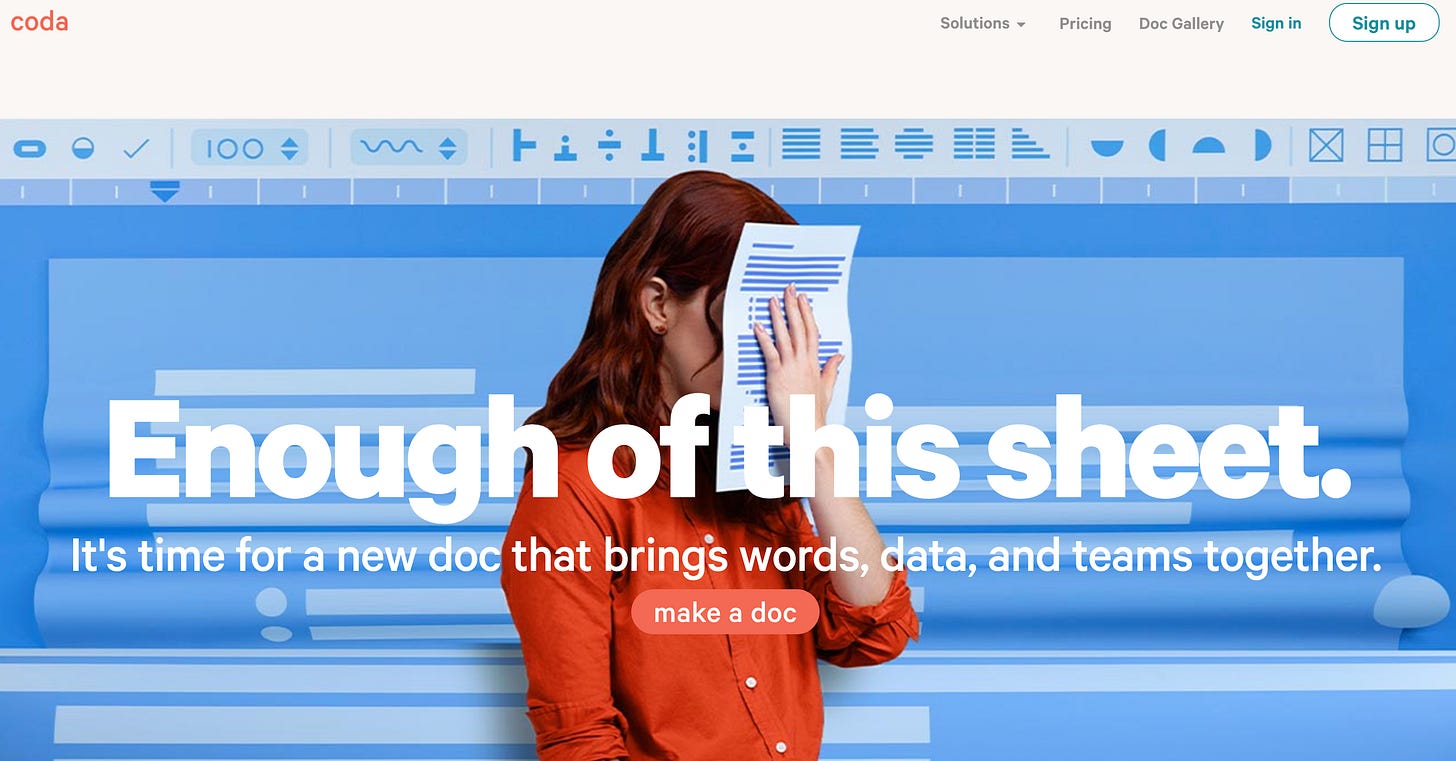 Coda is a freemium service, so it's free for basic use. Advanced features cost $10 a month. Students and teachers get a discount by emailing support@coda.io.
To give you a sense of what I've used Coda for, here are some of my recent docs:
An overview of the Brahms Piano Quartets with embedded video and docs.

A collaborative handbook for volumetric video capture. I worked on this with colleagues for a NYC Media Lab project with guidance from the NYTimes R&D Lab. This documentation includes video, images and navigation tabs.

A digital handout for a conference event on journalism product management tools. I made it in Coda to break things into clear sections, and so I could include embedded materials and interactive elements to encourage active participation.
If you want to learn more about Coda, there's a ton of helpful guides and videos, and a good help section that goes step-by-step and highlights what you can do with it. 
By the way, I have no affiliation with any company in this post, I just use and like these things and think you might too. In upcoming posts I'll write about how and why I use Notion and a quirky, cool new note-taking tool called Roam. If you've used either of those, or if you make things with Coda, reply to this post or message me on Twitter @jeremycaplan to share an example, tip or question.
If you've read all the way down here, you especially are invited to join me for one of our next lunchtime demo sessions. We ran one about Coda on June 12. Let me know if you'd like to join a future session.