Three Words for a More Engaging Class or Meeting
Why polls are a great way to start—or conclude—any session
You're reading the Wonder Tools newsletter. Each post features a tip to help make your remote work a little more enjoyable, efficient and creative. If you're not yet signed up:
Here are three words of advice I wish I'd heard when I started teaching: Pose wonder questions. Early and often.
Wonder questions are those that get people thinking. Imagining. Or smiling.
You can use polls for this when you're teaching online or leading remote meetings.
Picture this. You're in a class. Or meeting. Again. You've been Zooming for hours. Now someone starts lecturing or rattling off meeting details. Your mind wanders. 
Now envision a much different session. Right away an intriguing question pops out at you. ⁉️ It draws you in. 
Here's an example. A recent word-cloud poll question I posed during a webinar: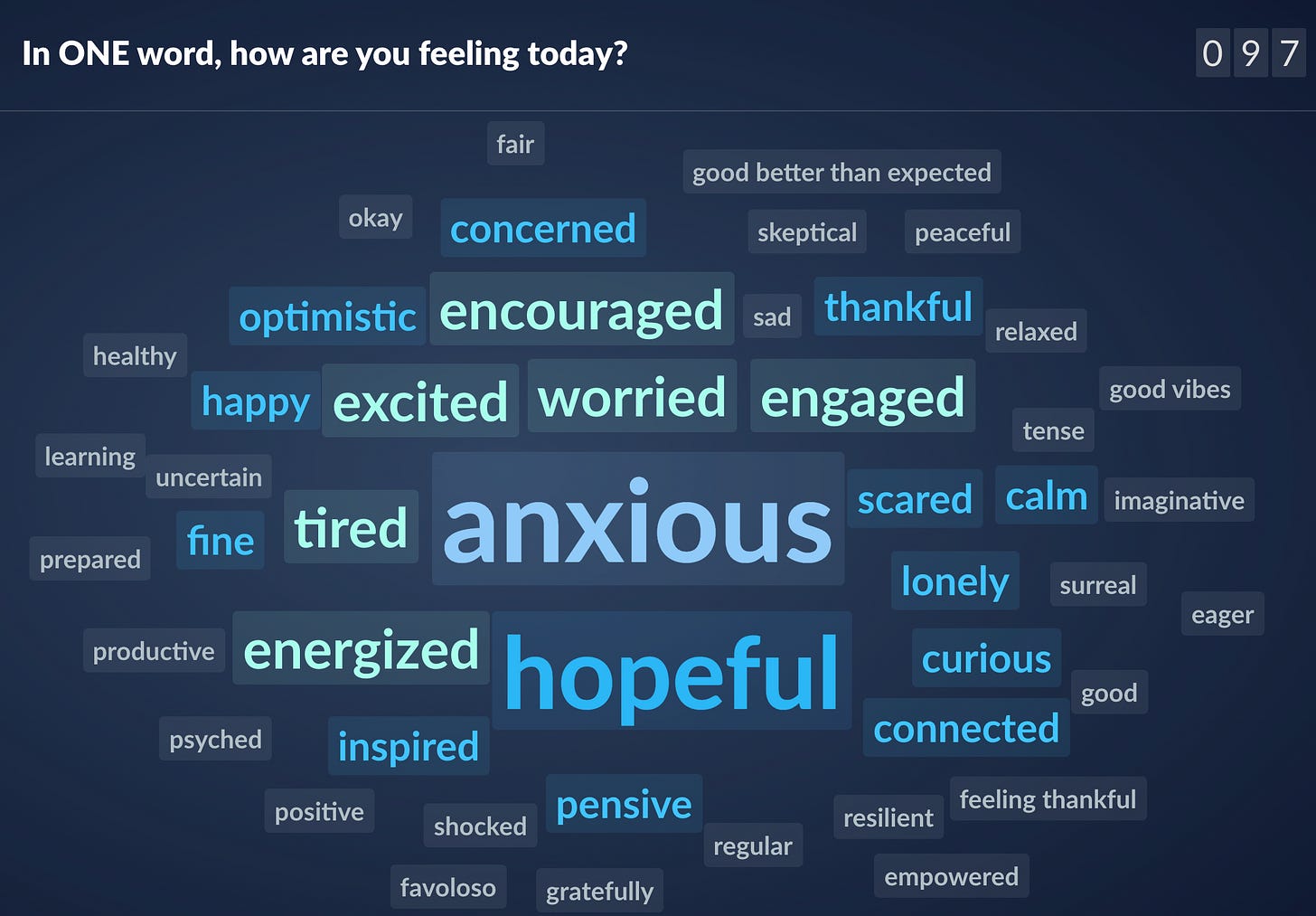 In remote sessions, asking people something—and drawing them in— is especially crucial. Polls are quick. They get people involved quickly. As a teacher or facilitator, you gain useful context and a better understanding of those you're with. 
You can pose questions out loud, but not everyone feels comfortable replying out loud or in public. Polls enable quiet and even anonymous responses. That helps people feel comfortable expressing themselves candidly.
---
The polling tool I use most often is Slido.com. It's easy and free for up to three questions per session. It plugs right into PowerPoint, Google Slides, or my slide tool of choice, Keynote. 
The simple steps: visit Slido.com, log in, and set up an event with your questions. Here are some of my poll questions. Feel free to steal or adapt them.
Then invite participants to the poll by posting the link in your Zoom chat or sharing the link on your screen along with a QR code. Participants can point their phone at the screen or type in the link and code. Here's what that looks like. You can try it. It's live.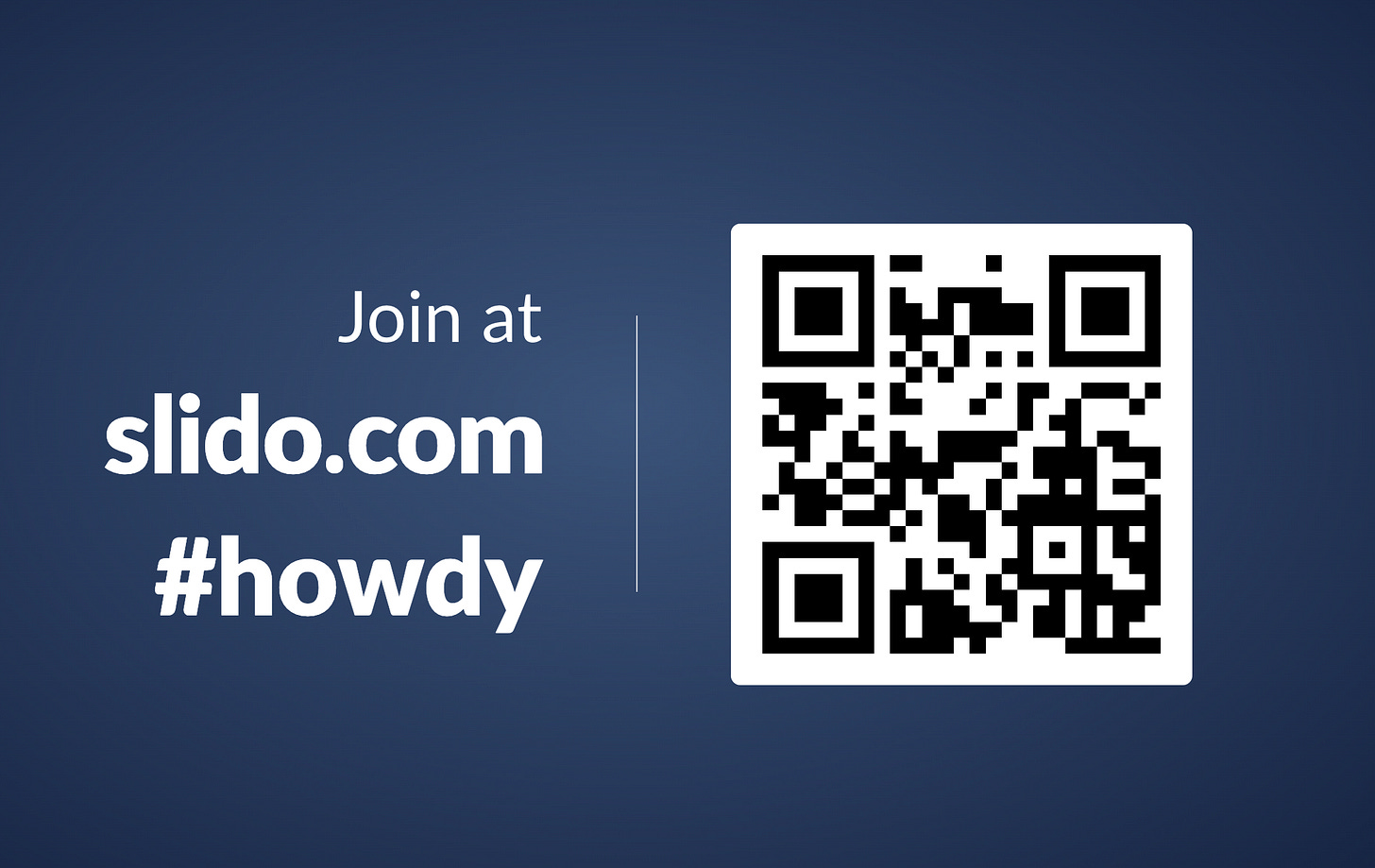 Once you've set up your questions, participants can reply from any device's browser —laptop, tablet, phone, watch, etc. Here's another live session you can explore right now.
Give people a minute to join and share a quick reply. Watch the responses roll in. Share your screen or let people look at the live results on their own device. Follow-up with a second question when you're ready.
I find that people appreciate seeing live visuals illustrating what colleagues are thinking and feeling, like the word cloud above.
In addition to enabling word clouds, Slido lets you ask participants to rate something. Or to pick from multiple options. But what I most often use are open-ended text questions. That way you can let people think and share fuller thoughts or ideas. You can also have people summarize takeaways or next steps at the end of a session.
Asking open-text questions is a great way to surface the collective experience or knowledge of a group without having to call on people individually.
To break up a long session, you can also run a Slido game quiz for fun. (Kahoot is my preferred tool for that kind of game).
I recommend using polls in three categories:
🎭Social polls i.e. how people are feeling or open questions about what they've been reading, watching listening to, or doing.

🗞Topical polls i.e. what people think about a contemporary or historical issue. 

💯Input polls i.e. feedback on your agenda, plans, or options you present.
A closing meta-question: what wonder question will you pose in your next session?
Would you like to get the next post in your inbox?
---
Bonus Slido Features:
Slido has a handy Chrome extension so you can show poll questions—and results—within a Google Slide deck without leaving your slides. And if you use a different slide tool, there's a free switcher app so you can seamlessly flip back and forth from your slides to poll questions on the Web.
In addition to responding to poll questions, participants can also pose questions in your Slido session's Q&A tab. And they can share ideas in a third tab. Try that out.
Participants can respond to one another's questions and ideas or upvote them. That yields a nice community component and a more useful backchannel than the open chat on Zoom.
Zoom's built-in polling is limited to multiple-choice questions. So I supplement with Slido because it allows for open responses, including anonymous ones.
There are, of course, lots of other live polling tools. Poll Everywhere, for example, has a handy feature: people can text in their poll responses. But Slido.com works well and I've found it consistently reliable. There's a new Slido integration with Zoom Webinars, and someone from Slido recently told me that more integrations are on the way for live sessions. What questions work best for you?
Wonder Tools is new, so if a friend or colleague might find it useful, please share it. Missed last week's post? Read it here: Try this free and easy transcription tool