Wonder Tools — Canva's New Cool Features
The best free design tool added some terrific new tricks
You're reading the Wonder Tools newsletter, which highlights useful tools for productivity and creativity. I'm Jeremy Caplan, a journalist, director of teaching & learning at CUNY's Newmark Graduate School of Journalism. This post is about one of my favorite visual tools. I use it every week, for many of the things I design. In past posts I've written about other visual tools I rely on, including my fave video apps and a new design tool, Projector.
Canva is a free, easy-to-use Web-based design tool. You can use it to create and export posters, banners, infographics, slides and just about any other visual. I use it to design social media posts, video thumbnails, and event covers, among other things.
Here are some new, cool features and useful things you can do with Canva. 
New Apps
Canva has added dozens of apps to let you do more with your designs. Lately I've been using Canva's Brandfetch app to quickly add company logos to designs I'm working on. Other apps inside Canva let you add your Dropbox, Facebook, or Instagram photos to your designs. The Mailchimp app lets you send Canva designs directly into your Mailchimp account to use in your next mailing. The Slack one lets you send things into one of your team's channels.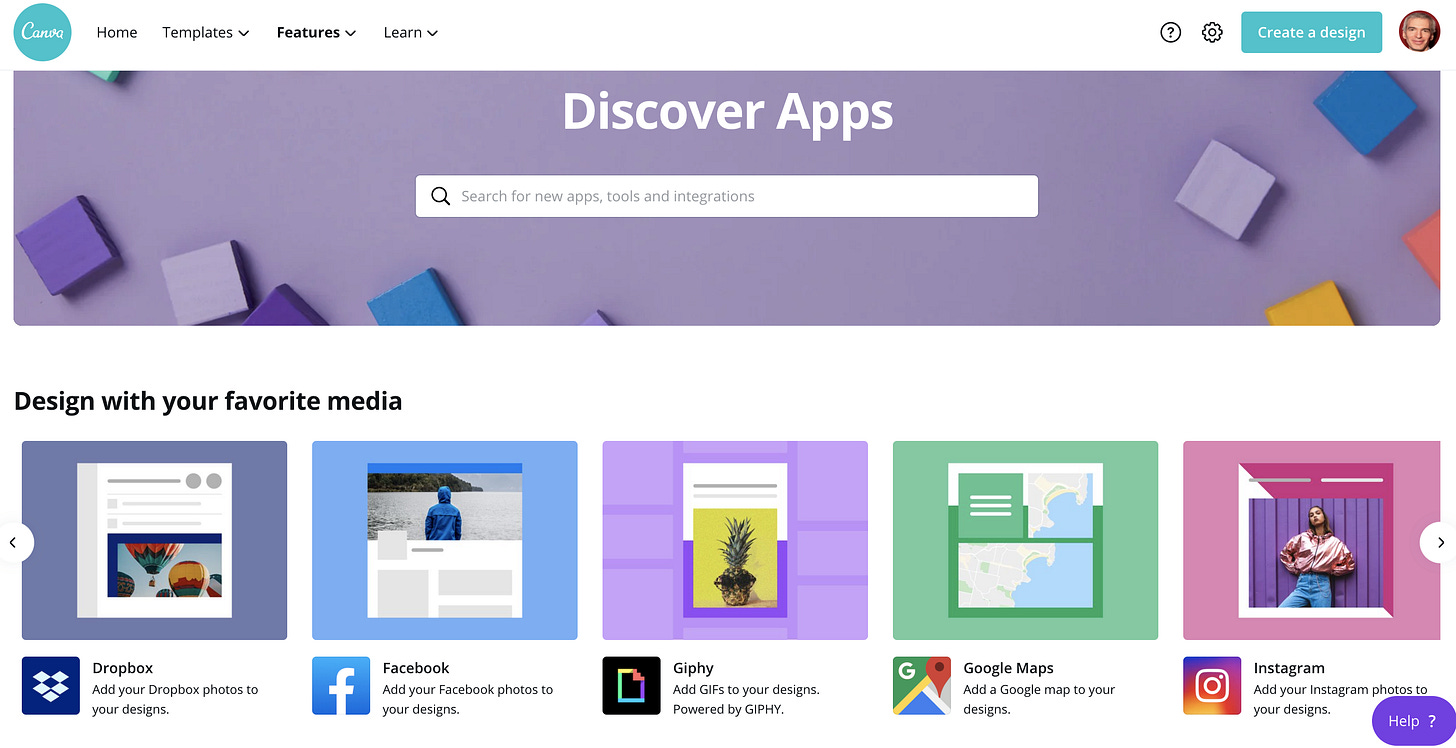 Present and Record 
Canva's newest feature lets you record a screencast presentation of slides or any other graphics you've created. When you're done, you just send a link — the recipient doesn't have to use Canva, they just see your recorded presentation. This is super handy if you're a teacher, or if you have occasion to walk someone through a design or presentation you're working on. 
If you don't need to record something, you can just make a live presentation from Canva. Most slide creation tools don't have the built-in library of images, design elements, or the range of templates.  
Export as a Website
I'm impressed with the new expanded export options. I was pleasantly surprised to find this week that I could export a presentation I designed on Canva as a standalone Website, with options for viewers to scroll down through it or to click through presentation-style.
Print 
If you send cards or print handouts, posters or flyers, the print feature is handy. Rather than relying on a standalone print service with cheesy templates, you can design and print within Canva. Delivery is free. 
Edit with your Phone 
You can view, edit and share with the Canva app for iOS or Android. Once you've got a bunch of designs in your portfolio on Canva, you can just duplicate one on your phone and modify it for a new use. After creating a bunch of designs, you end up with your own library of custom templates. 
A free desktop version you can download for Mac or Windows.

A new video editor with lots of free stock video and music — or you can upload your own assets. Use it to make simple videos online, like YouTube intros or outros, short social videos or photo slideshows.

A new way to present called Canva Live. People can follow along with your slides and share comments or questions. Useful for remote presentations.

New templates for creating Instagram Reels and TikToks.

A content planner — so you can schedule social media posts.  
Free vs $10/month
The free version offers 8,000+ free templates, 100+ design types (social media posts, presentations, etc) and hundreds of thousands of free photos and graphics. For $10 a month you get 60,000 free templates and 60 million premium stock images, photos, videos and graphics. And you can create and share a brand kit with your logos, fonts, and colors.
Make Gifs
One additional premium feature I like: Canva now lets you add motion to your designs, turning them into gifs or even short videos. There are a bunch of built-in effects. When creating a design, just tap the animate button, choose your style and length, and then export as a gif or movie file. Free alternative: Adobe Spark Post offers a similar motion feature, as does Projector, which also lets you customize the timing of each page, which is great for creating social videos.
An Australian Unicorn
Canva is my go-to design tool because it's reliable and keeps getting better. The $6 billion Australian company now has 30 million active users in 190 countries who have created 3 billion designs. Co-founder Melanie Perkins is one of the youngest female CEOs to lead a tech startup valued at over a billion dollars. I respect that Canva signed the 1% Pledge, providing their premium features for free to nonprofits and educators.
I'll show some Canva stuff in a future online workshop:
---
Upcoming Wonder Tools Free Virtual Events
I'll be joined in an informal chat by Diogo Rodriguez, a terrific former student who has given me some great ideas for coping with overwhelm. Diogo will share some of his recommendations (Daywise, Siempo and more); I'll share some fave apps and books.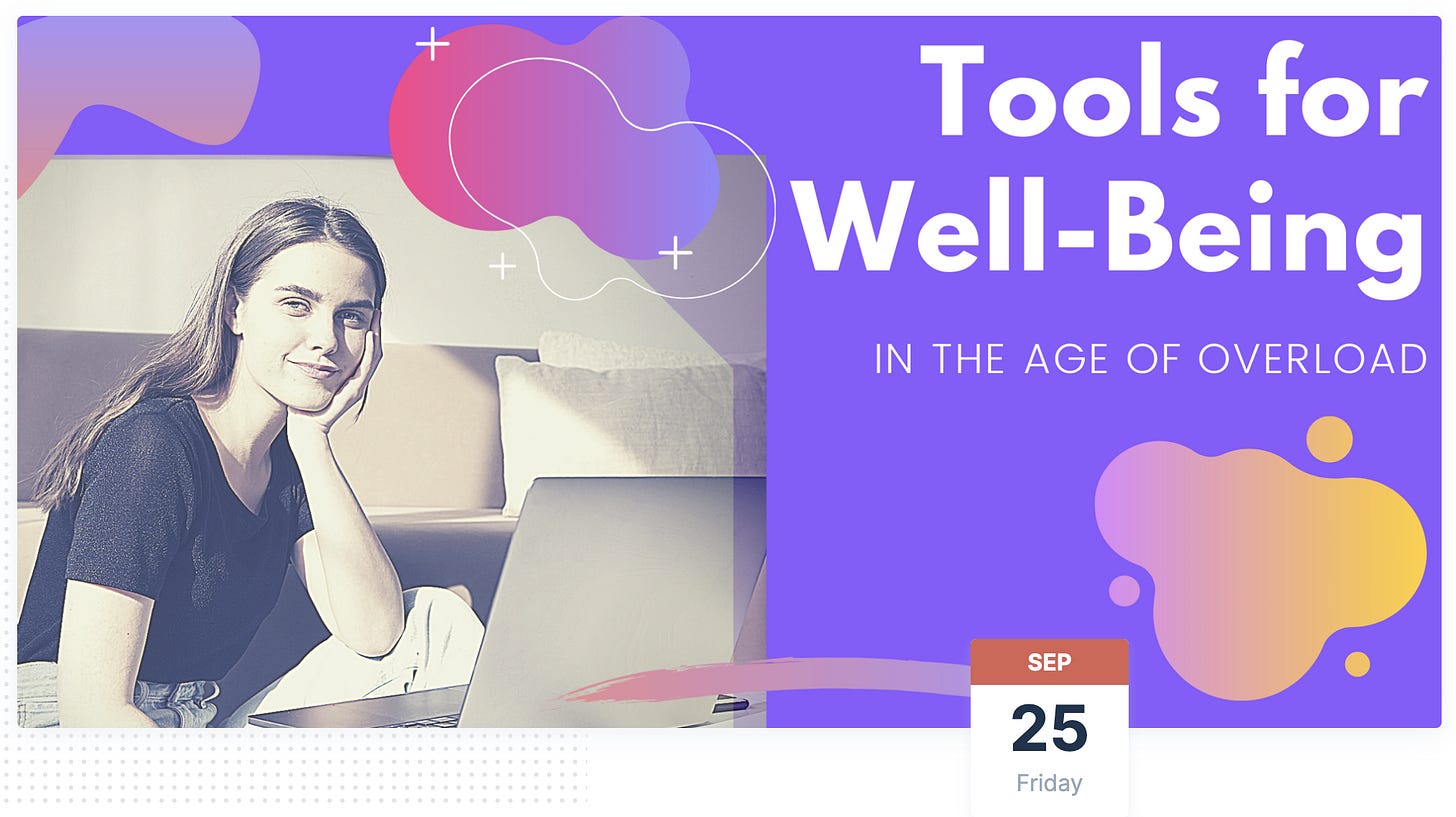 We'll trade tips, tools, and ideas for creative remote teaching. Come to share or just to listen. Any and all educators are welcome, as is anyone interested in teaching.