My Toolkit for Staying Positive
Here's what I've been relying on lately to help with mental health
You're reading the Wonder Tools newsletter. Each post features a tip to help make your remote work—or life—a little more enjoyable, efficient and creative. I'm Jeremy Caplan, a journalist, director of teaching & learning at CUNY's Newmark Graduate School of Journalism, and I'm passionate about useful tools.
I think a lot about productivity. But these days I care more about mental wellness. 
I was sick early on during this crisis. I spun into a low mental spot. I'm fortunate to have loving family around.
On difficult days I've leaned on apps that help in small but meaningful ways.  
Here's a peek at the mobile apps in my sanity toolkit — I've used them regularly during this pandemic. Here's a 2-minute video walkthrough.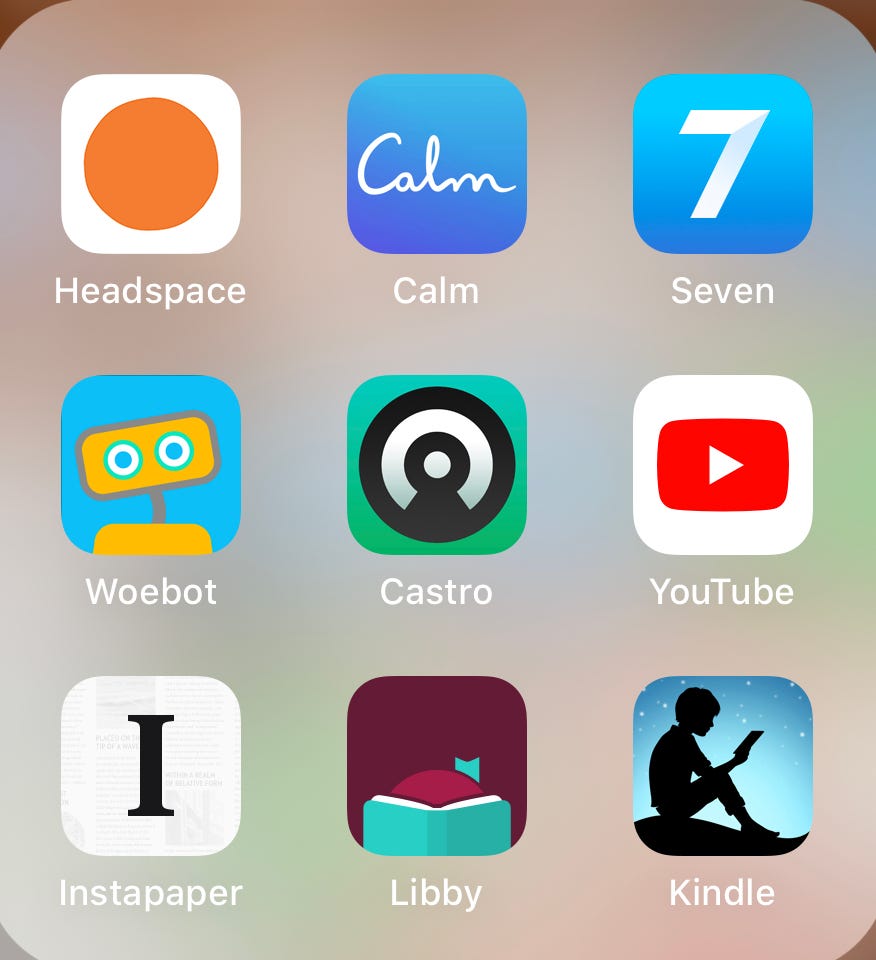 When I've had trouble falling asleep, I've relied on Calm's sweet sleep stories. The main ingredients: soothing voices and interesting-but-not-too-interesting fables. One is a historical tale about a child finding a perfect prop for Shakespeare. Another details the beautiful scenery on a train trip through Europe. 
When I wanted to practice deep breathing, I used Calm's helpful breathing timer. I found it helpful to have a little guide to keep me on track. 
I've used the mindful workouts in this app, as well as the walking meditations. I've found meditations to address anxieties. I have worked while listening to the app's calming music. And I appreciate learning about meditation from the super-calming Andy Puddicombe, the former monk who voices much of the app.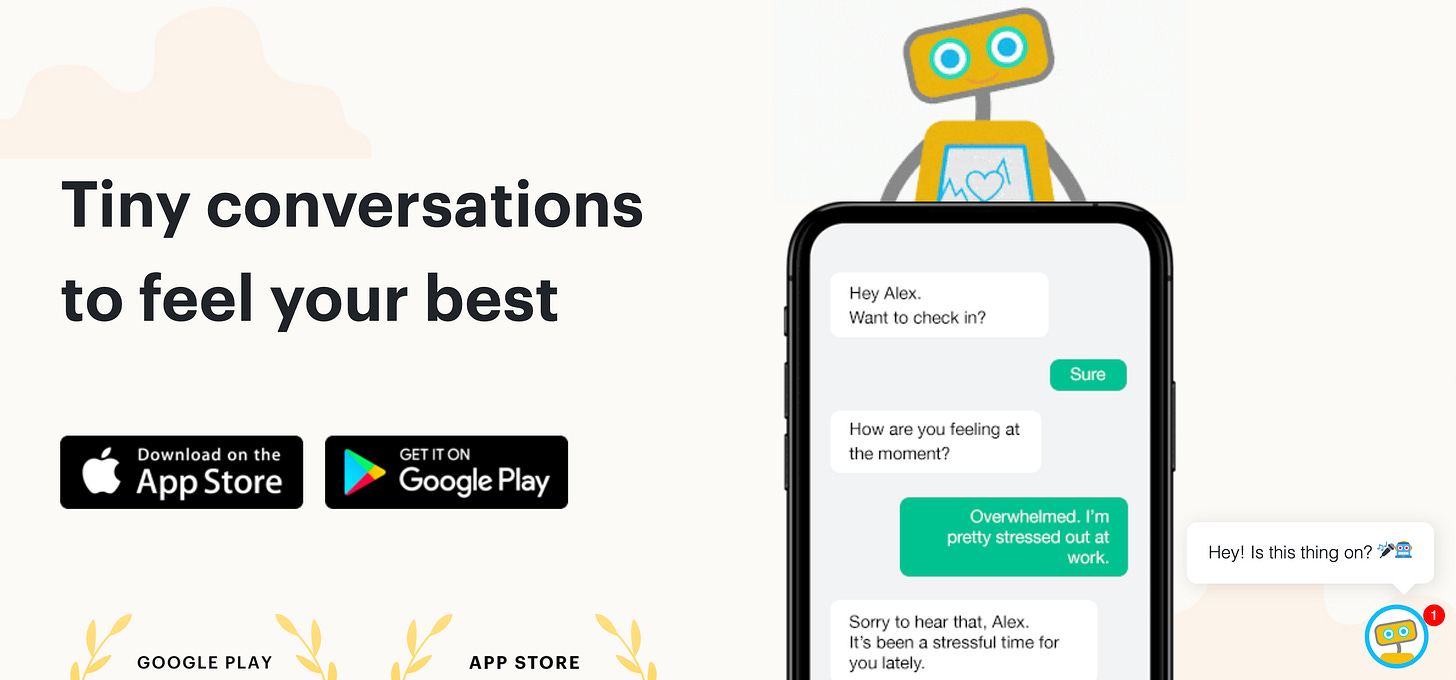 I've always been curious about bot chat apps, so I tried this free one. It uses basic principles of cognitive behavioral therapy to nudge your thinking in a positive direction. It encourages you to articulate specific things you're grateful for. It also offers a mood check-in. I like its ease and simplicity. It's obviously not a replacement for human therapy, but it's a light alternative for anyone interested in trying a gratitude journal who hasn't gotten into the habit yet. 
There are a bunch of apps that offer the same basic thing: a simple guide through 12 standard exercises you can complete in about seven minutes. This seven-minute workout app has a nice interface and a variety of exercises. You can use the basic features for free, or subscribe for extra workouts.
When I have access to a swimming pool, I try to swim regularly to keep fit. But when that's not feasible, I aim for brief morning workouts. I'm more alert and energetic after I've exercised.
Having an app or YouTube video to follow has been helpful because it takes care of the timing and ordering of the exercises. Apps also keep a record of workouts in the Health app so I can track my progress. I've found some workout apps let Spotify play in the background, allowing music to accompany the exercise.
I stopped reading daily news when I realized it was contributing to my anxiety. Instead of reading about the pandemic, I've mostly opted to read informative writing on subjects I want to learn more about— like pedagogy, explanatory journalism and lighter fare like digital productivity or cool smoothies. 
What's great about Instapaper is that I just click a bookmarklet in my browser whenever I see an article I want to read later, and it's then available in my reading queue on my phone or laptop browser whenever I have reading time. 
I like the dark ad-free view when reading at night. And I love being able to highlight and share articles easily. It has a great feature called "Tweet Shots" for sharing excerpts.
I also like being able to connect Instapaper to other services. IFTTT — a nifty free tool that connects apps to one another — can link Instapaper with Buffer, a social media posting app. So I can click the ♥️ button on something I'm reading in Instapaper to automatically schedule a Twitter post sharing the article. Others prefer Pocket, a similar app and a good alternative. 
Instead of consuming daily news that adds to my anxiety, I prefer listening to thoughtfully-produced podcasts. These days I like short ones. I particularly enjoy Laura Vanderkam's Before Breakfast and The New Corner Office mini podcasts. Each episode is just a few minutes and offers a well thought-out, practical tip about work, family or productivity. 
In the past I've enjoyed Becoming Wise from Krista Tippett. It's not new, but the old episodes have some great bites of wisdom. And for some reason, I've really enjoyed the Over the Road podcast, a wonderfully-engaging journey into the lives of long-haul truckers, something I never thought much about before.   
Setting aside daily news opens up time for more in-depth reading. These days I prefer physical books given how much screen time I already have each day. But given that libraries are closed, I've enjoyed using Libby to check out e-books for the Kindle, like Ian McEwan's Machines Like Me and Gretchen Rubin's The Four Tendencies. I read on a shared family Kindle and my iPhone's Kindle app, which is handy for saving book highlights. Libby's a fantastic gateway to our amazing libraries.
I've laughed at Billy on the Street, Schitt's Creek, Sacha Baron Cohen and 🐑 sheep on a carousel. And after two people mistook me for Nathan Fielder, I looked up his show, Nathan for You, which is funny. It's been helpful to laugh on difficult days. Now I'm looking for new sources of thoughtful humor. Got any to share?
Other Positivity Apps I Like
What have you found useful in picking up your mood in recent weeks?
I'd love to hear about anything that's made you laugh, helped you learn or made your life better in any other way. Reply to this email and I'll send you my one-page digital sanity tip sheet, if you'd like. I read and appreciate every reply. 
Thanks for reading,
Jeremy
p.s. here's a 2-minute video tour of some of the apps if you'd like to see them in action:
---
Previous posts: