Notion —The Everything Tool
Why I love this simple, free new alternative to Evernote and Google Docs
This is the Wonder Tools newsletter—useful tools and creative resources for pandemic life. I'm Jeremy Caplan, a journalist & director of teaching & learning at the Newmark J-School.
I've long relied on Evernote, Google Docs and spreadsheets. Lately, though, I've been moving to a new generation of productivity tools: Coda for docs, Airtable for tables, Roam for notes and ideas and Notion for, well, everything. 
Notion's become one of the hottest tools of 2020. Investors recently poured in $50 million, valuing the tiny company at $2 billion. 💰
So what is Notion and what's so special about it? 
Notion allows you to organize, view and share documents of all kinds. It combines elements of Evernote, Google Docs, spreadsheets and Wikis into a collaborative workspace. It's an everything tool — a kind of Swiss Army Knife digital resource.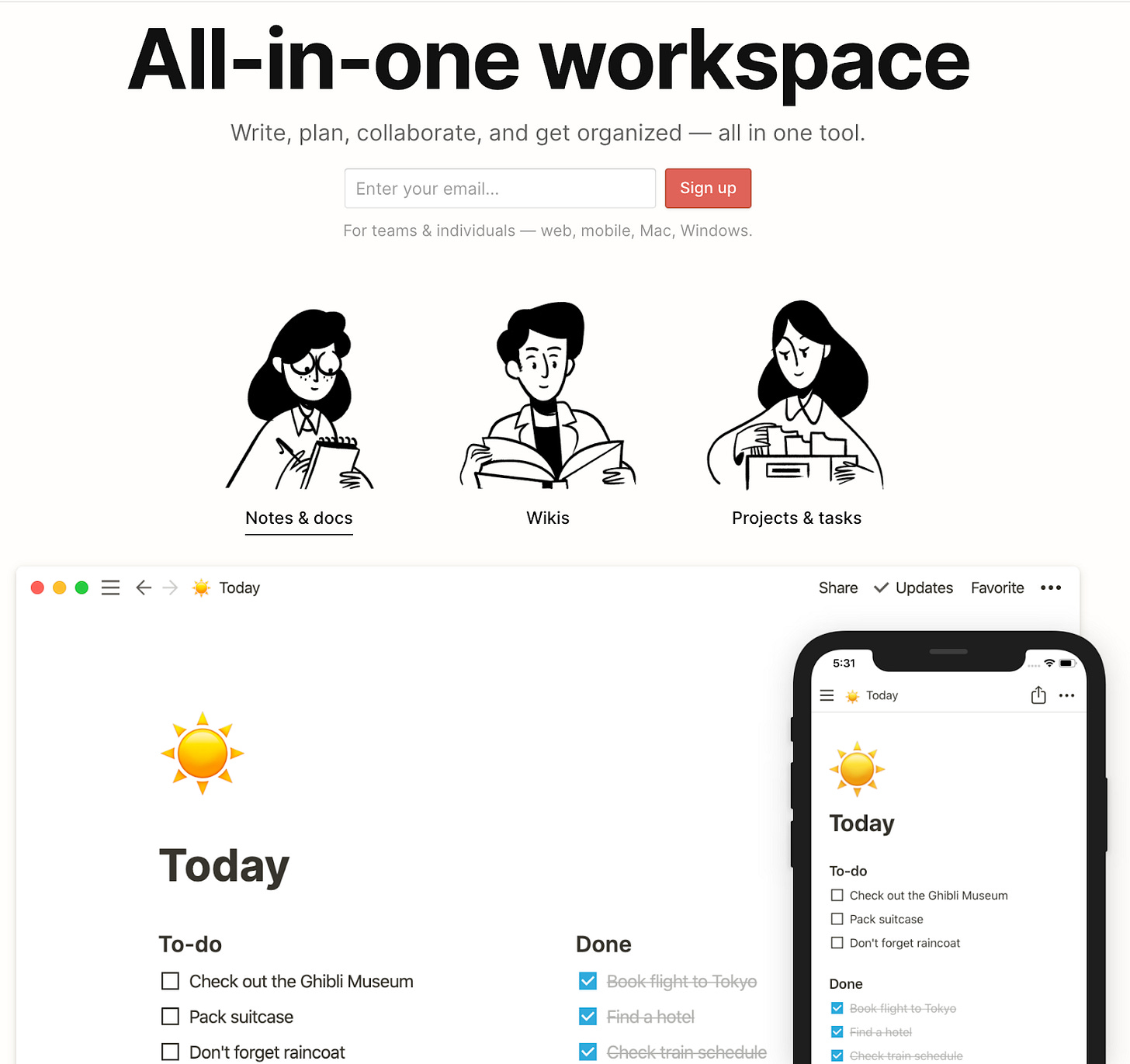 What can you do with Notion?
A page in Notion can include text, checklists, bulleted or numbered lists and anything else you'd include in a Google Doc or Word doc. But that's just the beginning. 
It's a flexible creation canvas, allowing you to add tables or databases if you're organizing data. Or you can embed multimedia content. 👀 
You can also embed content from online services. If you create screencast videos with Loom, designs with Miro or Figma, or forms with Typeform, you can put those directly on a Notion page. It's almost like creating a full site with a simple document editing tool. 
You can upload images, videos or audio files 🎶 directly to a Notion page without having to bother with uploading it first to a hosting service like YouTube or Soundcloud. You can even embed a PDF directly in your page.
Making public pages
Notion works well as a simple way to create Web pages for a class, an event, a work team, a club, group or organization— or just to keep track of your own recipes, 🥙 workouts, 🏃‍♀️ travel plans 🧳 or whatever else. 
This summer I've been using it to plan new courses and to map out upcoming projects. I've also used it to make digital handouts with embedded videos and explainers for music appreciation 🎻 sessions I host for seniors.
I like the ease of creating Notion pages, making them public, then taking the public link and customizing it with bit.ly. That allows me to quickly spin up a public Web site that has a simple name, like bit.ly/coolnotiontemplates. That's a page I spun up for you with some handy Notion templates you can duplicate. 🖇
To make microsites like this you could use a slick Web site builder like Tilda, which I wrote about in a previous post. But for a quick thing I'm spinning up to teach a class or for a meeting, it's easier and quicker to draft a Notion page.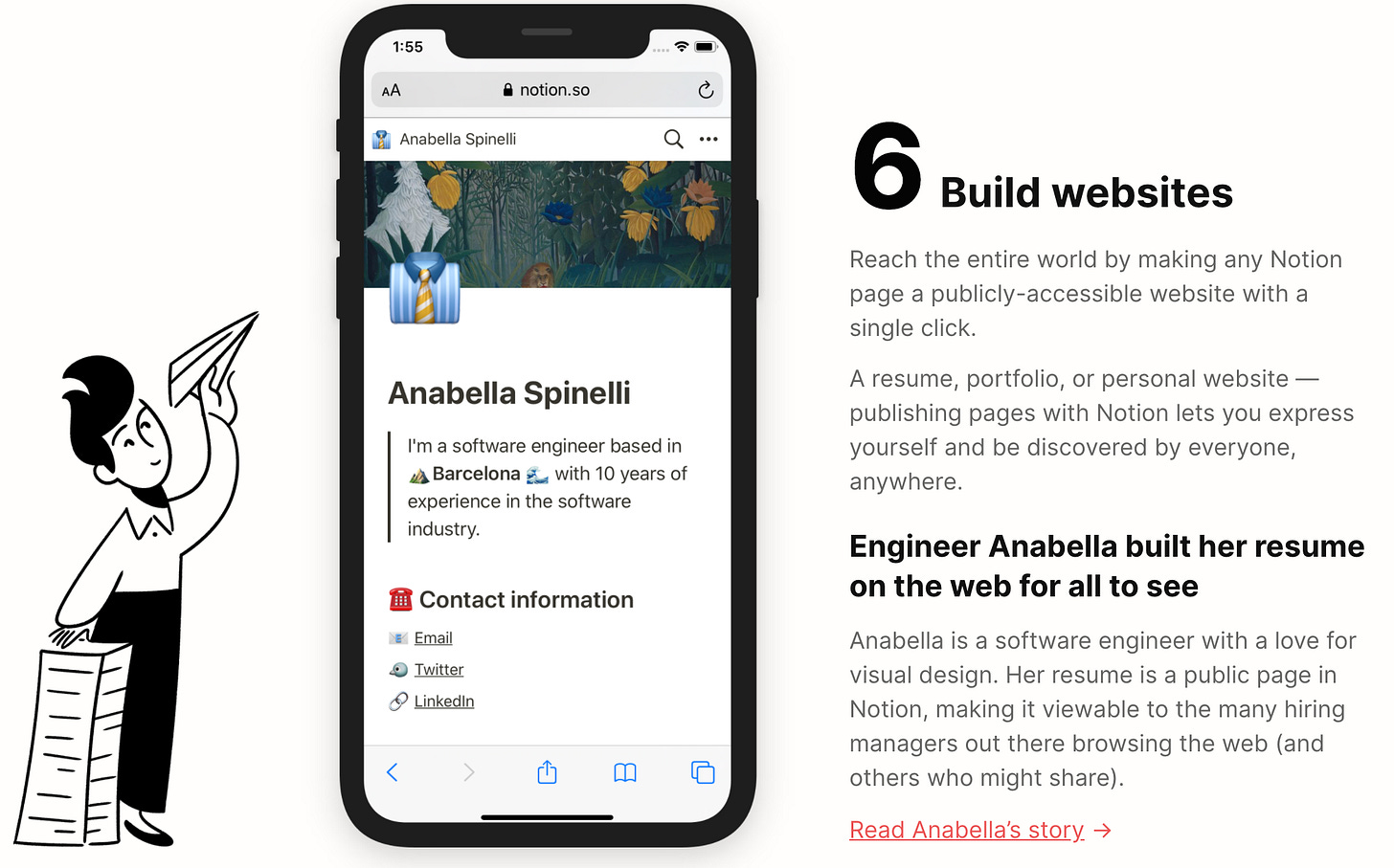 Four More Cool Things about Notion
If you put links on a Notion page, you can choose to show them as a simple URL or as an elegant-looking site preview. Or you can embed the content from the site directly onto your page. If you're sharing Tweets, for example, you can paste them directly into a Notion page and they'll look like they do on Twitter. 🐦

Notion has toggle functionality, so you can put a few key topics on a page and then tuck within them additional content. That additional stuff is only visible when someone clicks on the toggle. That keeps your pages neat and trimmer than those super-long Word or Google Docs. 🧹

A nice Notion design touch: each page can have a cover image as well as a little icon that represents it. Use your own image or the nice built-in image collection.

One of Notion's hidden gems is a terrific Web clipper. Click the clipper anytime you're on the Web to add anything to one of your Notion pages. I used to use Evernote's clipper, but Notion's is a more elegant way to organize information I'm collecting. The clipper grabs an article's text or a video from YouTube so you have the title, URL and content embedded directly into your note. 👍
Notion now has a completely free plan 😁 that works great across platforms.
p.s. On Wednesday, July 15 @11am ET I moderated a live Webinar on The Path to Solo: Platforms and Tools for New Projects, with Nick Chen, co-founder & CEO of Pico, & Michelle Young, co-founder of Untapped NY. Here's a recording.
---
For more on Notion, sign up here to join me Friday, July 17 at 11am ET live for a free walk-through and highlights of Notion's coolest features. 🎈
Update: Here's a recording of the live Webinar:
---
Update: Here is a follow-up to this post, focused on How to Get Started with Notion, with examples of how it can be useful and ways to use it creatively.