Wonder Tools — my favorite podcast player
My preferred way to listen, and some great stuff to listen to
I'm Jeremy Caplan, and you're reading a pre-election, politics-free post, the latest in a series of notes on tools that add little bits of joy or efficiency to life. These days I'm directing a program that just launched at the Newmark Graduate School of Journalism at CUNY. Here's a piece Nieman Lab published Tuesday about that new Journalism Creators Program.
What are you listening to this week? I'm listening to Grandma, here's your robot, the latest episode of the Should This Exist? podcast. And other shows at the bottom of this post…
I've tried a bunch of podcast players. The one I return to consistently, though, is Castro. I love its simple listening queue. The app lets me download only the episodes I actually want to hear from the podcasts I subscribe to, rather than overloading my phone with everything at the same time.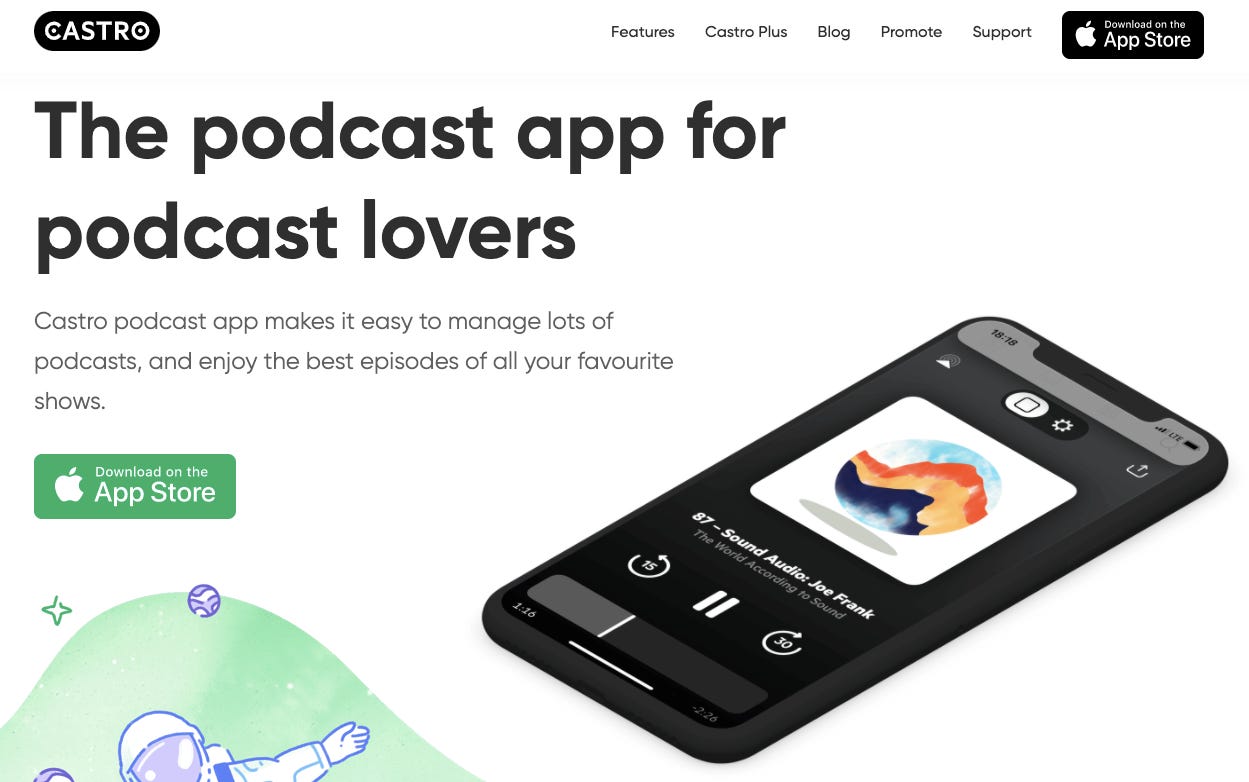 Podcast players are like word processors, RSS readers, or email clients. The best ones recede into the background. The content is what matters, not the box it's in. 
If you listen to podcasts only occasionally, the default podcast player on your device is generally fine. If you subscribe to just a few shows, you may not care about what player you use.
For podcast devotees, however, who subscribe to a lot of shows and listen regularly, it can be a nuisance to juggle the latest episodes of numerous shows. You end up spending lots of time crafting multiple playlists or dividing up shows into multiple queues. 
I prefer the simplicity of Castro. Here's how it works.
First, subscribe to whatever podcasts you want to. To choose some use the simple search tool or poke around the app's categorized lists of popular shows. Here's a sortable table view of my own list, in case you'd like some recommendations.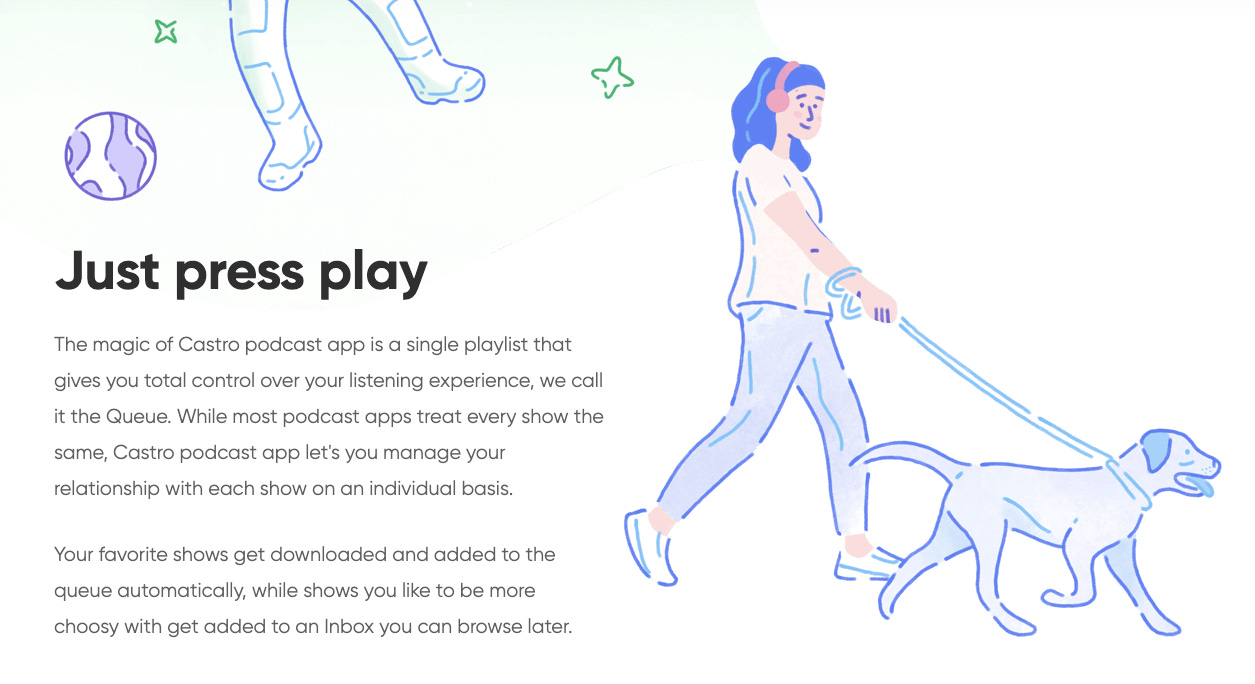 Once you've subscribed to a few shows — or a ton — use two main tabs to act on the shows. The inbox tab is where new episodes flow in. The play tab is your queue, showing what you'll be listening to next.
Once or twice a week, look through the inbox tab to scroll through new episodes of the podcasts you've subscribed to. If you see one you want to hear, just click the "add" button and it gets added to your queue. You can choose to add it to the bottom or top of your queue. If you're not interested, keep scrolling to something else. Once you've added a few episodes of interest, your queue is ready to go. Pro tip: program Castro to automatically push your favorite shows straight to the top of your queue.
When you're ready to listen, just hit play and listen to whatever's in your queue. You can drag episodes with your finger to adjust the order they play in. Once you're listening, one episode will flow into the next, so you don't have to fiddle with your phone if you're walking, cleaning, exercising, etc.
You can add episodes to your queue from your inbox whenever you'd like. Typically, I poke through the inbox a few times a week to add new things to my queue. The rest of the time, I just open the app and hit play. Nice and easy.
Castro is a free app for iOS. You can optionally pay $19 a year to support the developer and get a few bells and whistles (like night mode and a custom app icon), but the premium features aren't crucial. The free version has everything you need. (Stitcher is a great alternative for Android).
If you want to keep up with the world of podcasts, the best source for insight and news on this arena is Nick Quah, who pens the great Hot Pod newsletter and now has his own interesting podcast about podcasts.
Here are some podcasts I've loved. Recommended fall listening.
My list of 50 great podcasts focuses mostly on shows that aren't hardcore news or politics — I find enough of that elsewhere. I prefer podcasts that spark new thoughts, share creative ideas, or spin out compelling stories. You can point your phone camera at the QR code below if you'd like the list on your phone.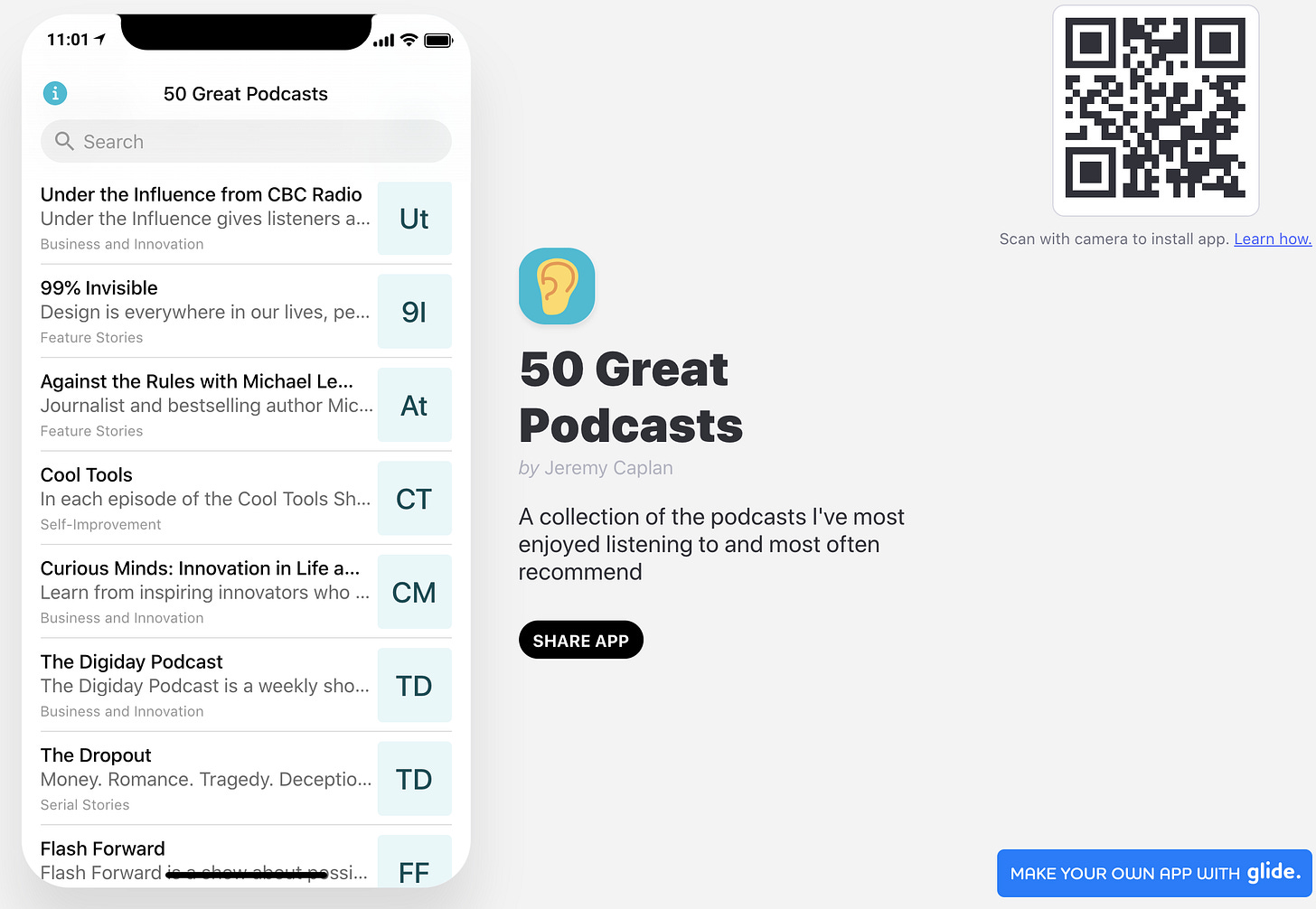 Brief background on some of these podcasts:
Aria Code explores some of opera's most incredible moments. Each episode delves deep into a special aria (operatic song). Singers confide in the host about what the music means to them, while opera devotees share their own perspectives on the aria. When you hear the aria performed at the end of an episode, you feel a deeper connection to it. It's a bit like Song Exploder, but for operatic masterpieces.
I loved the moving episode on Gluck's Orpheo ed Euridice, which includes reminiscences from Jim Walter reflecting on losing his spouse in 2015 to cancer. The lyrics of the aria ("Che farò senza Euridice" — "What will I do without Eurydice?") carry extra resonance after hearing Jim's story.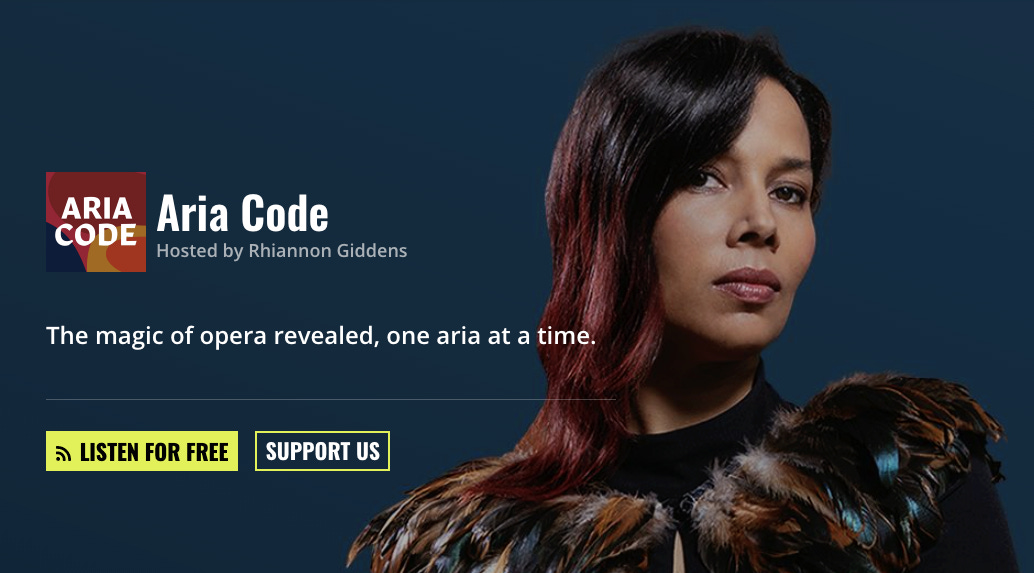 Curious Minds
: Innovation in Life and Work, with Gayle Allen 
This is one of the few interview shows I listen to because the guests are terrific, it's substantive and to the point— not chit-chat— and the conversations are concise and well-edited. Listen to a great recent episode with author Dan Heath on solving problems at their roots instead of just reacting to symptoms.  
This one recently prompted a New Yorker article because it's a show so right for our moment. I particularly liked a recent episode on the stoic philosopher Epictetus, guided by a wonderful professor named Bill Irvine, author of The Stoic Challenge: A Philosopher's Guide to Becoming Tougher, Calmer, and More Resilient.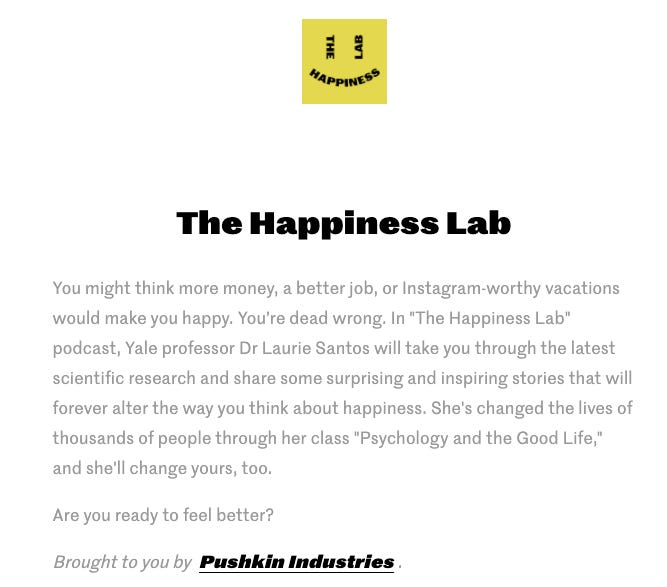 This is my guilty pleasure. If you're a fan of Trader Joe's, or even if you just like specialty food and grocery stores in general, you'll enjoy this. Most episodes delve into a distinct category at the store, like flowers, produce, beer, cheese, spices, etc. Listen to the chocolate episode if you'd like a quick sweet taste.  A nice escape from awful elements of the period we've been living through. 

Here are 11 other podcasts I love listening to during the pandemic to get away from politics, strife and misery: